Dachshund
Dachshunds are loving and very sweet pups. They want to be with you all of the time and cuddle up on the couch under some blankets.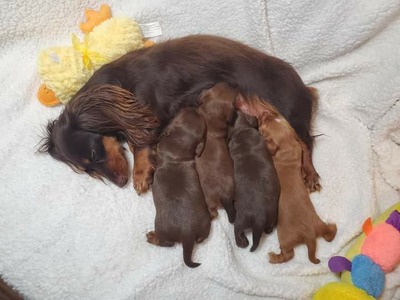 My Dachshund's
I have three purebred dachshunds. Peanut and Teeny both have AKC papers. Ellie is getting papered with CKC. Expecting litters with long and short hair. They are miniature dachunds and should be at ten pounds or under. Ellie may have larger puppies because she weighs 11ish pounds.
The puppies will cost $900-$1800 depending on the litter. They will be well socialized, come with a health guarantee, be born inside our home, and they will receive their first shot.
Depending on the litter, the puppies will come with Limited AKC papers. I will sell with Unlimited AKC papers for an increased price.
If you are interested in a puppy, please contact me to be put on our waiting list.
Pricing
AKC Limited- $1,600
AKC Unlimited- $1,800 (males) $2,200+ (females)
No Papers (purebred)- $800-$950
CKC-$900- $1,200
The deposit is $300 and is part of the full purchase price.
Contact
The best way to reach me if you are interested in a puppy or have questions is through my email (paragonpuppies@gmail.com ). However you may call or text me at 850-736-5071, just leave a message if I do not answer.
Dachshund Pictures