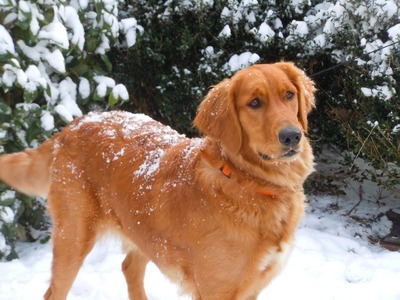 About our Puppies
Pet ownership is a long term responsibility. All puppies grow up. Sure they are cute right now. However, when they chew up your shoes and bark at the neighbor; most people suddenly wonder if they have made the right decision. Then the puppy grows into a beautiful adult and it seems like all the chewed up things do not matter.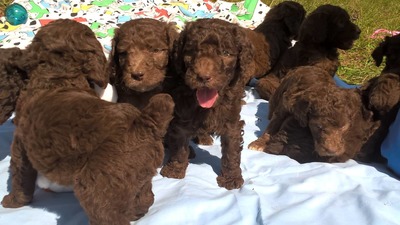 Waiting List and Deposits
To be put on our waiting list you have to be approved. To become approved we would like to know more about you. You can email us and tell us about yourselves or we would love a phone call.

Deposits can be put on a puppy once the puppy reaches one week old. People who are on our waiting list get first pick in order of when they contacted us. The deposits for the puppies are non-refundable. These deposits are part of the purchase price.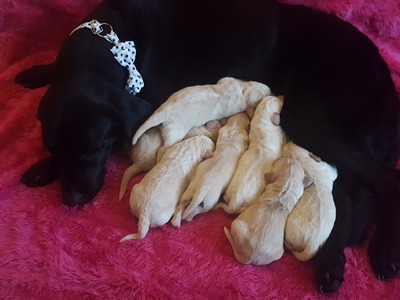 Health Contract
Our health contract is for the puppy to be free of communicable disease for a two-week period from date of sale (possession) and untreatable/life-threatening congenital defects until the puppy turns one year old.
During this time it is your responsibility to take the puppy to the vet to be checked out for any communicable diseases or congenital problems.
This guarantee does not include minor illnesses and health issues such as colds, allergies, internal or external parasites or umbilical hernias. We do not guarantee fur color, eye color, adult size, conformation, reproductive ability, personality, training ability, proper bite, coat quality, length, weight, hernias of any kind, and any physical flaws. However, the breeder will disclose any known illnesses or health issues prior to the sale and strive to pair the buyer with the puppy they want.
If any problems are found then the puppy may be returned for a full refund. To get the refund you must have proof that the vet did find a congenital problem or communicable disease and the puppy must be returned. We are not responsible for any vet or other bills incurred. The health contract is formally spelled out on the Puppy Purchase/Health Contract Form.
Puppy Purchase Agrement & Health Contract
Return Contract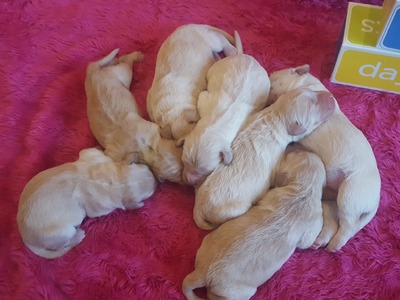 Some of the puppies will have a return contract. The contract basically states that if the purchaser does not want the dog anymore that we have to be contacted. This contract is valid until the dog turns 5 years old. Upon contacting us we will have the option to buy the dog back to up to half of the original purchase price. If we are failed to be contacted and we find out that the dog has been rehomed without our permission, we have the right to take the dog back without having to pay anything. I only have return contracts on certain puppies and I will let you know if the puppy has one.
Returning your Puppy
Every once in a while I have someone who needs to return a puppy because of family issues or other reasons. If the puppy is under 16 weeks old then I can take the puppy back (if he appears in good health) and return the originally purchase price except for the deposit. If the puppy is older than 16 weeks old we will return up to half of the original purchase price. It is completely up to the breeder as to whether or not they will take the puppy back and give a refund. If you need to return the puppy we require that all health records be included. If the puppy for some reason has not already had their proper shots that are required then we will need compensation for those as well.
Information on Puppies
The puppies are ready to go when they reach eight weeks of age.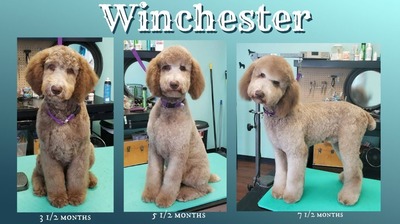 They will be de-wormed and receive their first puppy shot.
The puppy will come with a Puppy Packet upon purchase.
It contains:
Shot/Health Record
Health Contract/Puppy Purchase Agreement
Basic Puppy Care Information
Sample of Puppy Food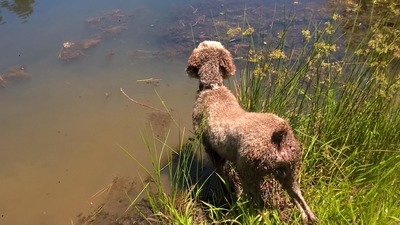 Getting Your Puppy
We do not fly our puppies at this time, ground transport is available. Compensation for transportation can be discussed in advance.
The easiest way is to come to our home and get your new puppy and meet the mom and dad (if present). However, I would be happy to drive the puppy to an easier location for you.