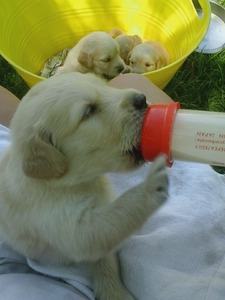 Our goal has always been to have happy, healthy, excellent quality puppies for families to enjoy as much as we do. Dogs are wonderful family members, and ours are always glad to see us!
Dogs encourage us to go for walks and enjoy life they are man's "best friend", and need to be cared for and treated as such. We are not into large mass puppy production, instead we believe that a puppy needs to be personally loved and cared for.
We have been having puppies intermittently for over eight years. Some years we choose to let the moms rest. We do not have a fancy kennel. The puppies are born in our home and grow up there until they are ready to go to their new families at 8-10 weeks of age. If the weather is good they can play in our large fenced grassy yard or in a hay filled pen.
Our family enjoys having puppies to play with. It is because the puppies are handled on a daily basis that they love to play and be around people. A dog's trust and love is the result.