Bella
Sex:

Female

Date of Birth:

December 15th, 2018
Bella is Sold!
About
This little girl has takes after the poodle with her curly or very wavy hair and will not shed. She also has a very easy going temperament that likes to explore.
Parent Information
Labradoodles are a hybrid designer breed between a labrador and a standard poodle. The father is Hairy and he is an AKC purebred standard poodle. The mother is Shadow, and she is a purebred American black labrador. In this litter I am expecting the puppies to be around 50 pounds with a lighter build since Shadow is an American Lab.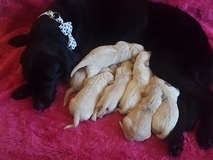 Shadow had her puppies on December 15, 2018 and they will be eight weeks old on February 9, 2019. We are willing to hold puppies till Valentine's Day if needed.
Hairy is AKC, but the mother is not papered, so I will not be having papers on the puppies.
Pricing & Deposit
The price for this puppy is set at $1,200.
The deposit is $300 and is part of the full purchase price.
Contact
The best way to reach me if you are interested in this puppy or have questions is through my email ( paragonpuppies@gmail.com ). However, you may call or text me at 850-736-5071, just leave a message if I do not answer.
Videos
Puppies are 4 weeks old!
Puppies are 7 weeks old!
Pictures